When it comes to decorating for Fall I love the vibrant colors the season provides.  The first year I started to decorate my home for Fall I attempted to go neutral.  That didn't turn out as I had envisioned.  After adding a little bit of color I was satisfied.  The following year I went in the complete opposite direction and had all of the autumnal hues.  Last year I felt I stuck a happy medium.  As of now the jury is still out on how I will style my home for Fall.  In case you're leaning towards a more neutral Fall style I've rounded up some great inspiration for you today.  I'm sharing neutral Fall decorating ideas.
*this post includes affiliate links for your shopping convenience, you can read more about affiliate links by reading my Disclosure*
NEUTRAL COZY FALL FAMILY ROOM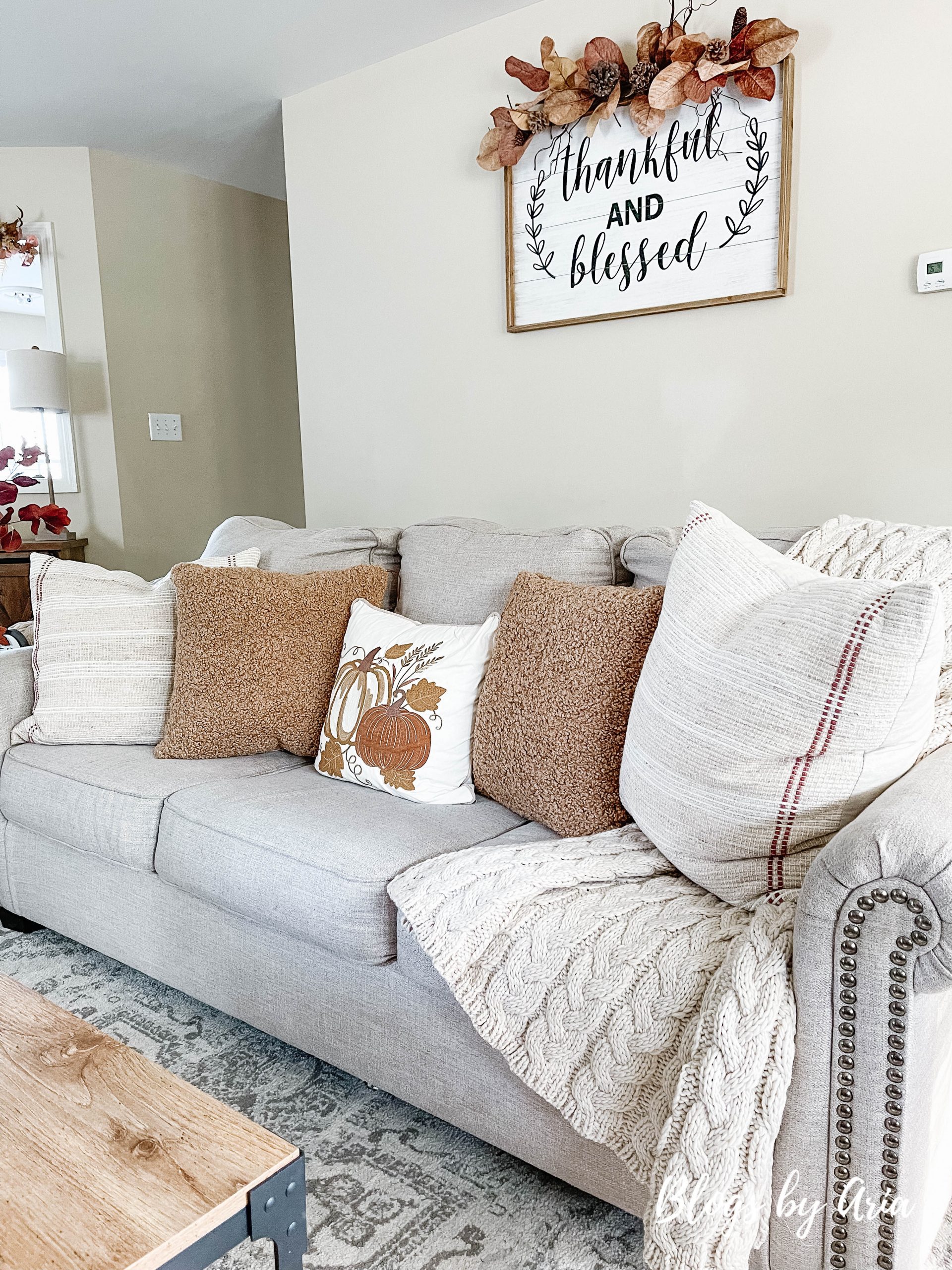 Last Fall my family room was definitely more neutral and I loved it!  The colors used in my pillows were more muted and I used a lot of the textures to bring the cozy aesthetic.
NEUTRAL ENTRYWAY STYLED FOR FALL
Erin has one of my favorite accounts I follow on Instagram.  I've been following her for years and I don't know when it began, but I wouldn't doubt it if it was around Fall!  Because I love her Fall decor ideas.  Neutral Fall decorating made simple with lots of different shaped white and cream pumpkins.  One tip I learned from her is that you don't have to stack your pumpkins, play around with having some on their sides and some on their bottoms.
FARMHOUSE NEUTRAL FALL DECOR IDEAS
Add in sage green pumpkins with woven trays and you're well on your way to creating a neutral Fall space in your home.
NEUTRAL FALL DECORATED CONSOLE TABLE
The textures from the baskets, throw blankets and pillows really help to give this console table and cozy feeling.  Adding a couple of pumpkins of different hues, including orange, but a muted orange help to keep this area feeling neutral.
Neutral Fall decorating doesn't mean you can't use orange pumpkins, it's all about the tone.  Bright orange, not so much.
FALL STYLED FLOATING SHELVES
Green, gray and white pumpkins fall in the neutral category for me.  Adding in lots of wood cutting boards for texture, white dishes and copper mugs bring this space together.
KITCHEN NEUTRAL FALL DECORATING IDEAS
If you have a built in desk in your kitchen this is a great inspo shot for how to add a touch of Fall to the space.  It also gives idea for adding small little vignettes throughout your home by gathering a few items together and adding a pumpkin.
NEUTRAL FALL KITCHEN DECORATING IDEAS
Jennifer kept her styling to a minimum in her kitchen yet it packs a big punch!  Adding a neutral Fall wreath to your vent hood or cabinets over your stove, creating a vignette with a floral arrangement and a pumpkin or two, and adding a pumpkin dutch oven to your stovetop makes such a difference.
NEUTRAL STYLED BOOKSHELF FOR FALL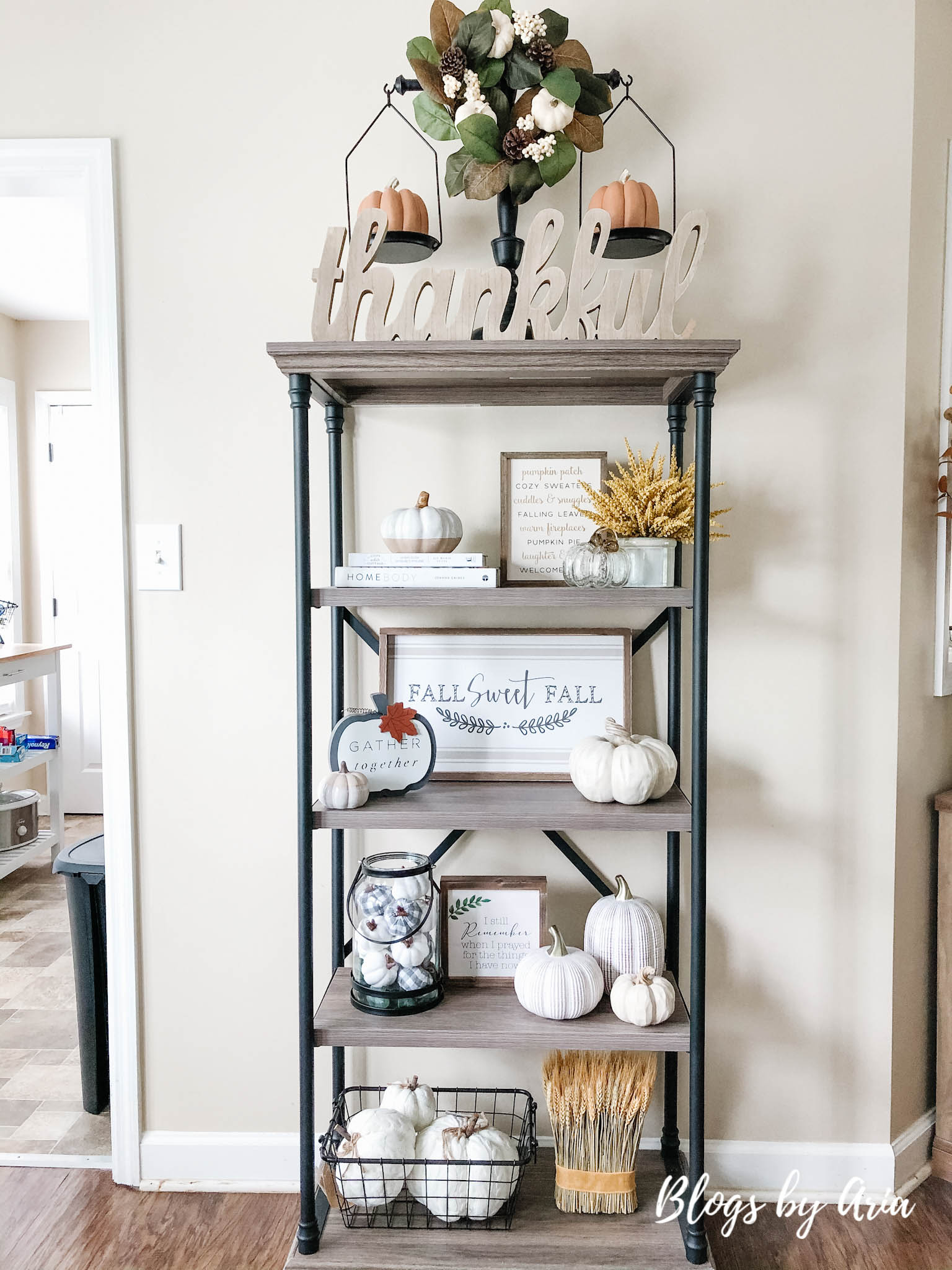 The part of me that craves neutral Fall decorating always makes a small appearance somewhere in my home!  I'm equally as drawn to cream and white pumpkins as I am to orange so I love how it all came together in my bookshelf a couple of years ago.
FALL NEUTRAL FAMILY ROOM
I love Erin's Fall decorating so much I had to share her living room.  I love how she layers so many pumpkins, cozy pillows and chunky throws together.  They're all neutral and so beautiful!
SIMPLE NEUTRAL FALL FAMILY ROOM 
Erin is one of my favorite home decor bloggers hands down and who turned me on to the idea of decorating my home for Fall.  Several years ago when I lived in a house I hated, I would read her blog and dream about the day that I too, could add pumpkins and florals and cozy throws to my home each Fall.
She also loves Pottery Barn as much as I do 🙂  I love the muted colors of the soft browns and tans to bring in Fall.
NEUTRAL FALL DINING ROOM DECORATING IDEAS
I love how Jenn decorated her dining room for Fall especially how she styled her hutch.  I used her styling as inspiration for my bookcase last year.
NEUTRAL FALL TABLESCAPE IDEAS
I love this neutral Fall styled tablescape.  You may recognize something that I have in my own Fall decor, the magnolia chair wreath.
Hopefully you got some great ideas for your decorating this year!  I know I did 🙂  We'll have to wait and see which direction I go in, but at least I have a few neutral Fall decorating ideas in my pocket.
My goal is to start decorating for Fall here shortly (as in early August) so I have a little bit of time to come up with a design plan.
I hope you join me!  If you're looking for more home decorating ideas and finds, make sure to follow me here:
Facebook | Instagram | LTK | YouTube | Tik Tok