Welcome fall into your home with these cozy and inviting entryway decorating ideas! From pumpkins and acorns to plaid and warm colors, there are endless ways to bring the spirit of autumn into your space.  In a recent video I shared five ways to style your entryway table for fall.
Today I'm going to share those five ways with you.
A few things to note…I really abhor this table.  Eventually it will be replaced.  But it's nowhere near the top of the priority list.
For now, I work with what I have.  With that said, this table is very narrow so I'm limited with the sizes of baskets or items I can use.
*this post includes affiliate links for your shopping convenience, you can read more about affiliate links by reading my Disclosure*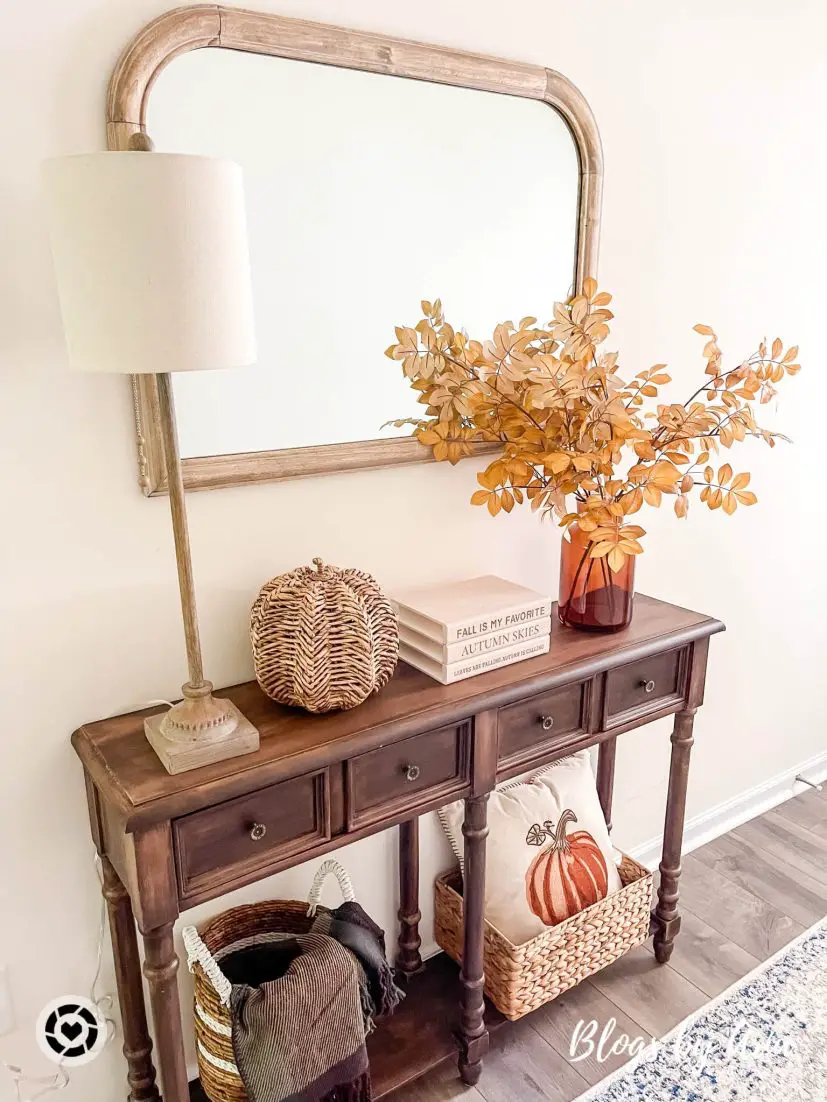 This was my first rendetion of a fall entryway table.  This beautiful fall arrangement has moved around my home, but it started out here.  Pairing it with a neutral book stack and woven pumpkin kept the space simple.
In many of the shots you'll see I didn't vary the bottom, because again, not much works.
My ceramic vase has become a staple on my entryway table.  As much as I love the golden florals and amber glass, I was missing my old faithful vase.
So I popped a few of these rusted beech leaf stems in it and feel like this is perfection! Per-fec-tion!
Side note- I have a Tik Tok video where I used one of the voice alterations and I said the word perfection and I can only hear it in that voice now! 🙂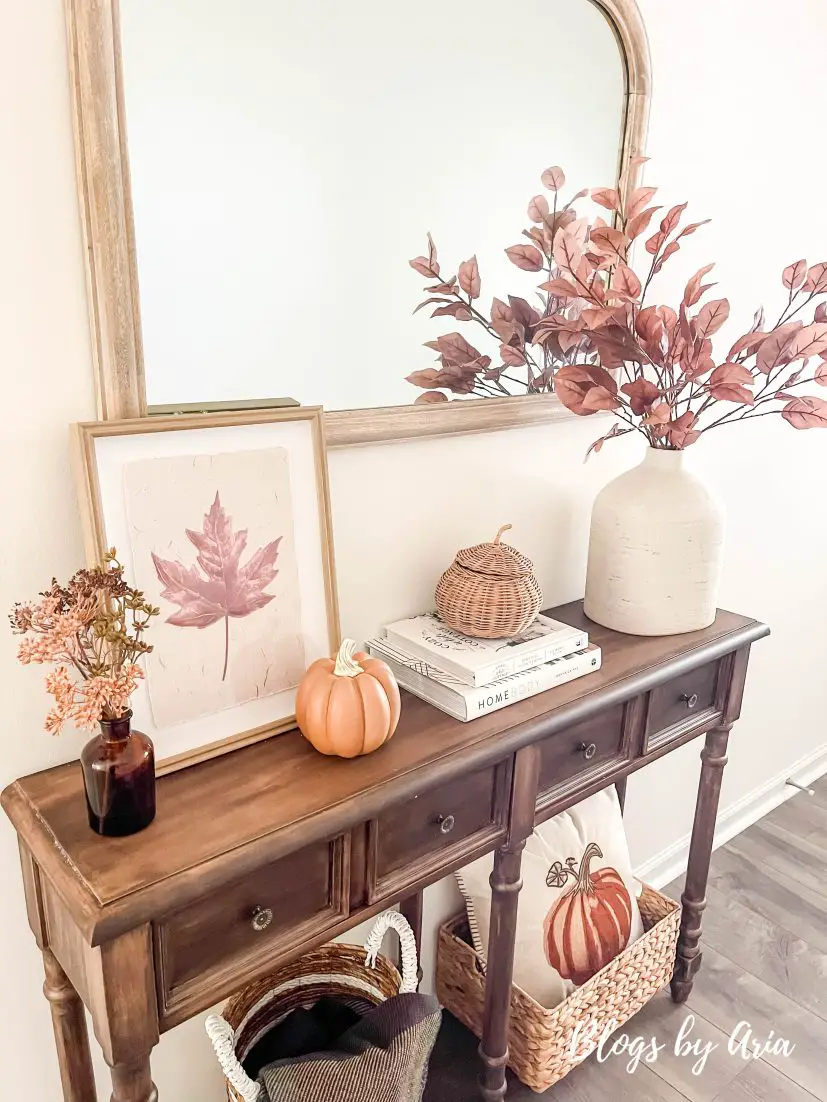 For this next fall entryway option I decided to remove the lamp.  I'd really like a new lamp but, priorities.  In its place I added this framed leaf print.
This might be the most cluttered version and the clutter throws me off.  Because let's face it, an entryway table needs to be functional.  We keep our keys on a holder by our garage door but I come in and out of the front door.  So guess where my keys are usually?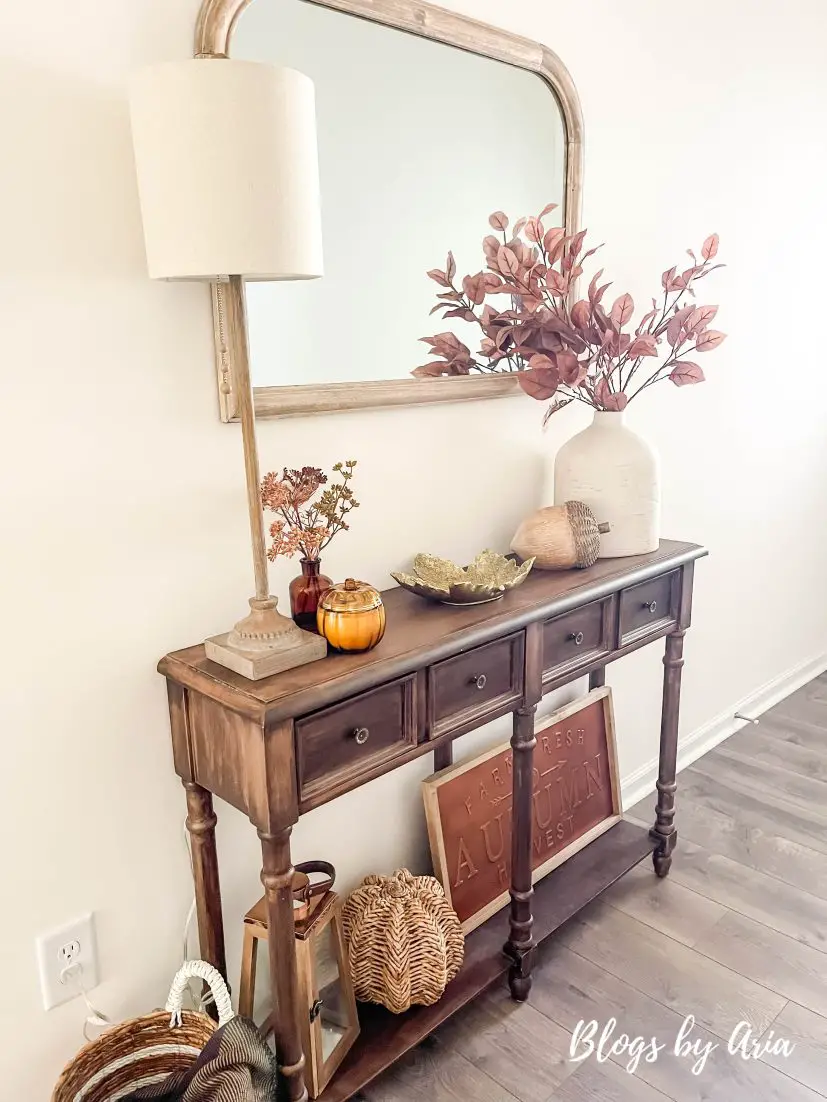 So I brought the lamp back.  I love my buffet lamps but I would like a nice, matte black lamp, similar to this one.  It's very popular because Kirkland's keeps sending me emails that it keeps coming back in stock.  I didn't ask for that!
To switch things up from pumpkins I added a wooden acorn.  That really stepped out of my box!  I also added a golden leaf.  I will say, the leaf has glitter and I'm not a fan of that.  If it didn't, it would be great to hold your keys.
Jordan (my 14 year old son) said he liked it so I haven't returned it!
On the bottom I added a small lantern and the woven pumpkin (both no longer sold) and added this copper fall sign.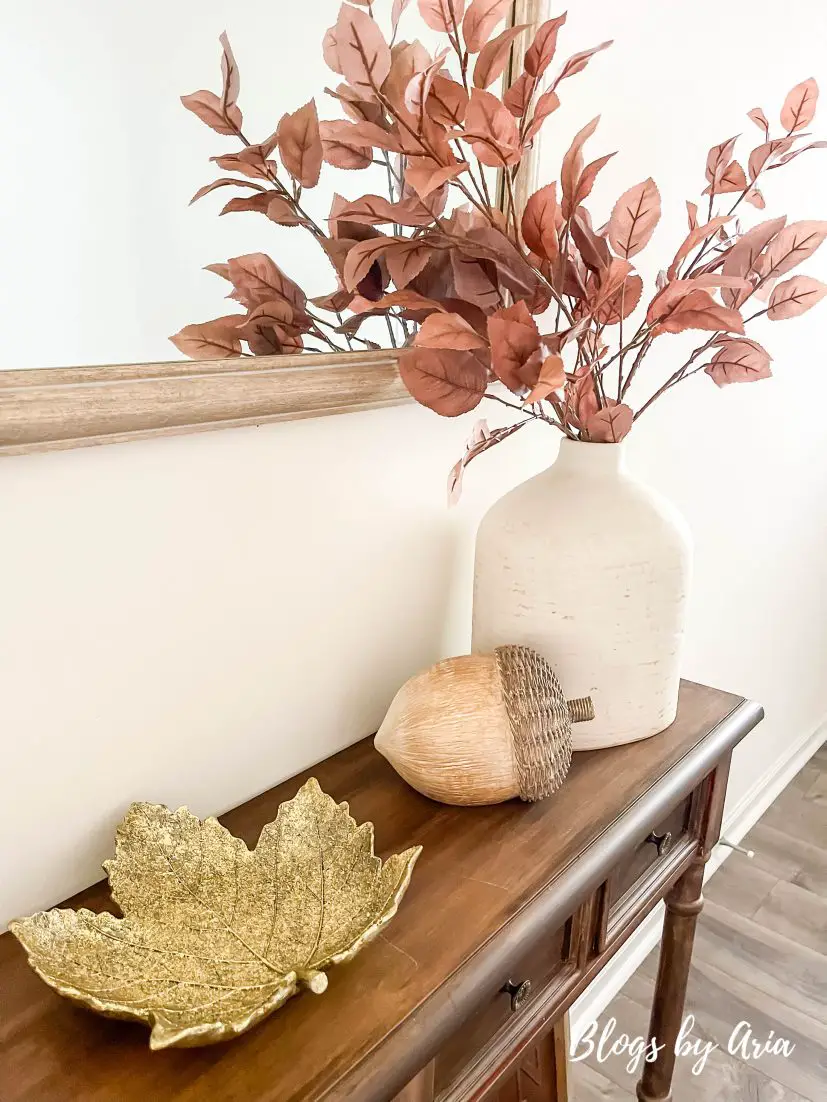 Here's a closer look at the gold leaf tray and the acorn.  These are both the larger versions, they each come in smaller sizes.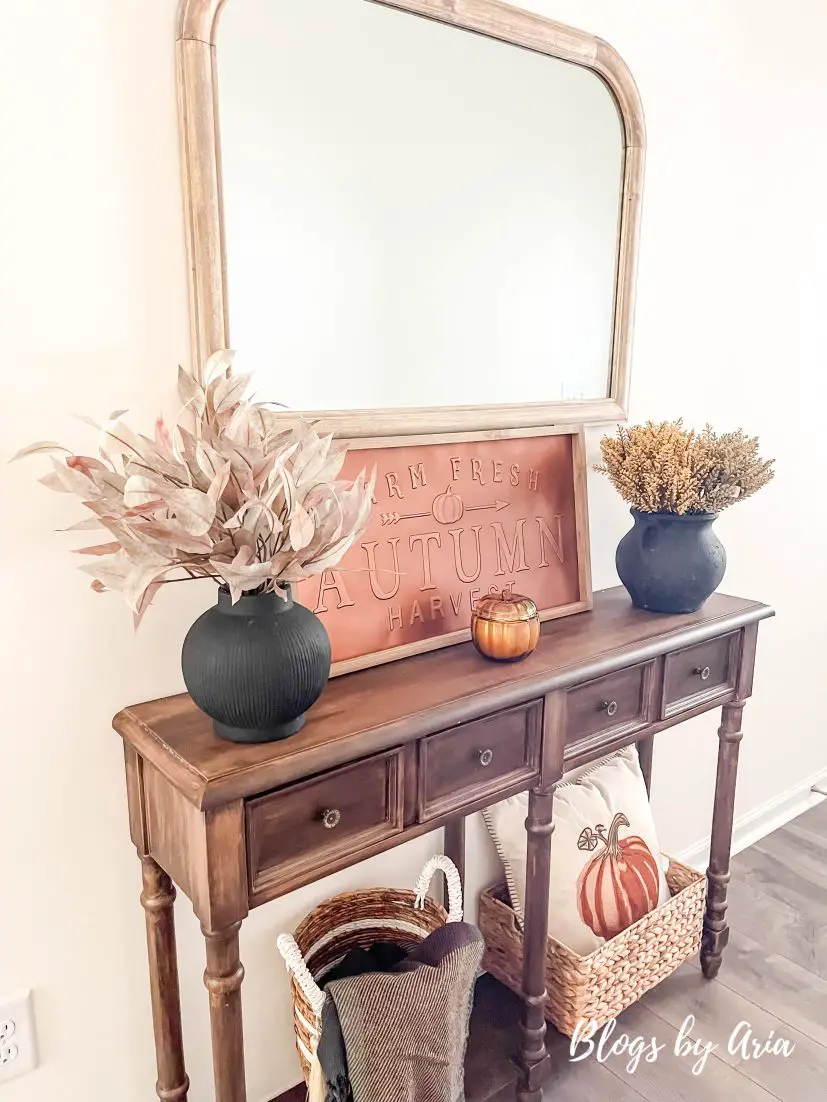 For my final fall entryway decorating version I leaned into the matte black.  It's very popular this fall and I really like it.
The round black vase is a new release from Target.  It also comes in a taller style vase and a pedestal bowl that I really love.  The stems I used are from Target last year and I really kept trying to use them someway somehow in my decor.
The black vase with handles was a Home Goods find and I used these stems from Michaels.  I centered the copper sign on the top and added a pumpkin candle.
Which version is your favorite?  The final look that I went with I will share in my Fall home tour blog post.  If you want to see it sooner, you can check out my Fall home tour video.
No matter how you choose to decorate, make sure to have fun with it! Fall is a time to celebrate the changing seasons, so let your creativity shine through.  I hope that you got some great ideas for decorating your entryway for fall!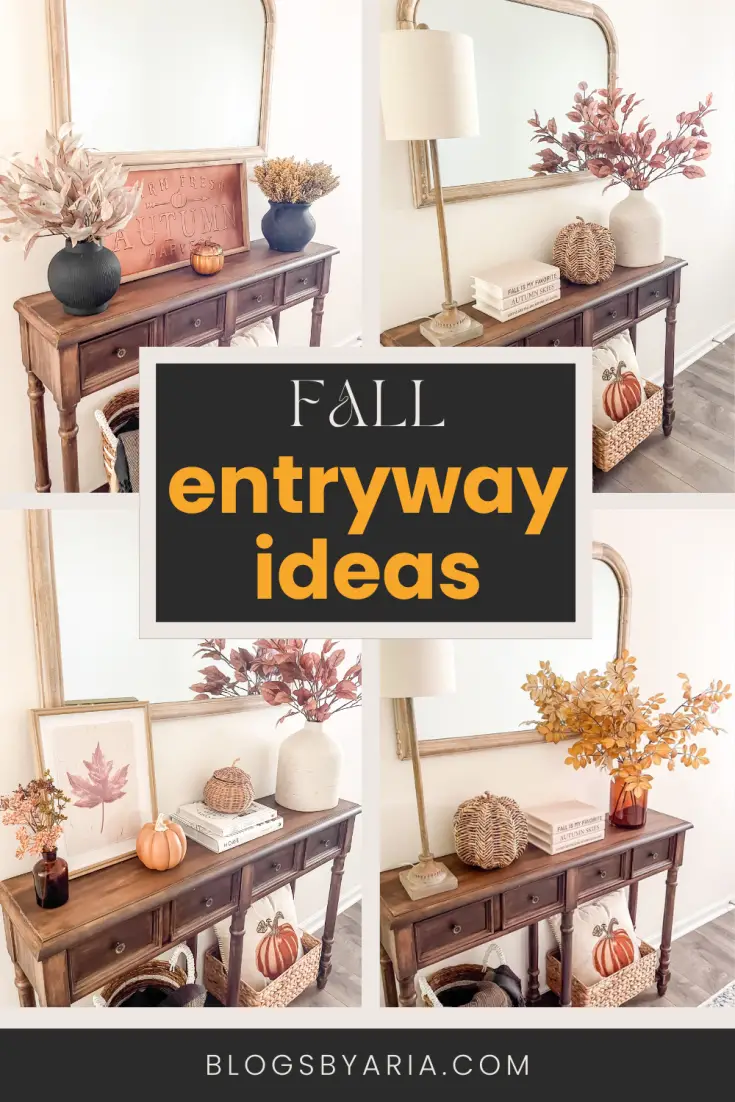 Looking for more fall decorating ideas and inspiration?  Here are a few favorite related posts from the blog:
If you'd like to get even more home decor, fashion finds, sales and all things random be sure to follow me here: