This year my goal was to add more green and less red into my Christmas decor.  Soon I knew I wanted to add more gold elements.  I absolutely love how my green and gold Christmas decor has turned out.  Add in a little Stewart Plaid and it's perfect!
In case you missed it, I shared a quick look at my Christmas family room already.  Now I want to share a bit more about my Christmas tree and a few other spaces that got a festive touch this year.
*this post includes affiliate links for your shopping convenience, you can read more about affiliate links by reading my Disclosure*
GREEN AND GOLD CHRISTMAS TREE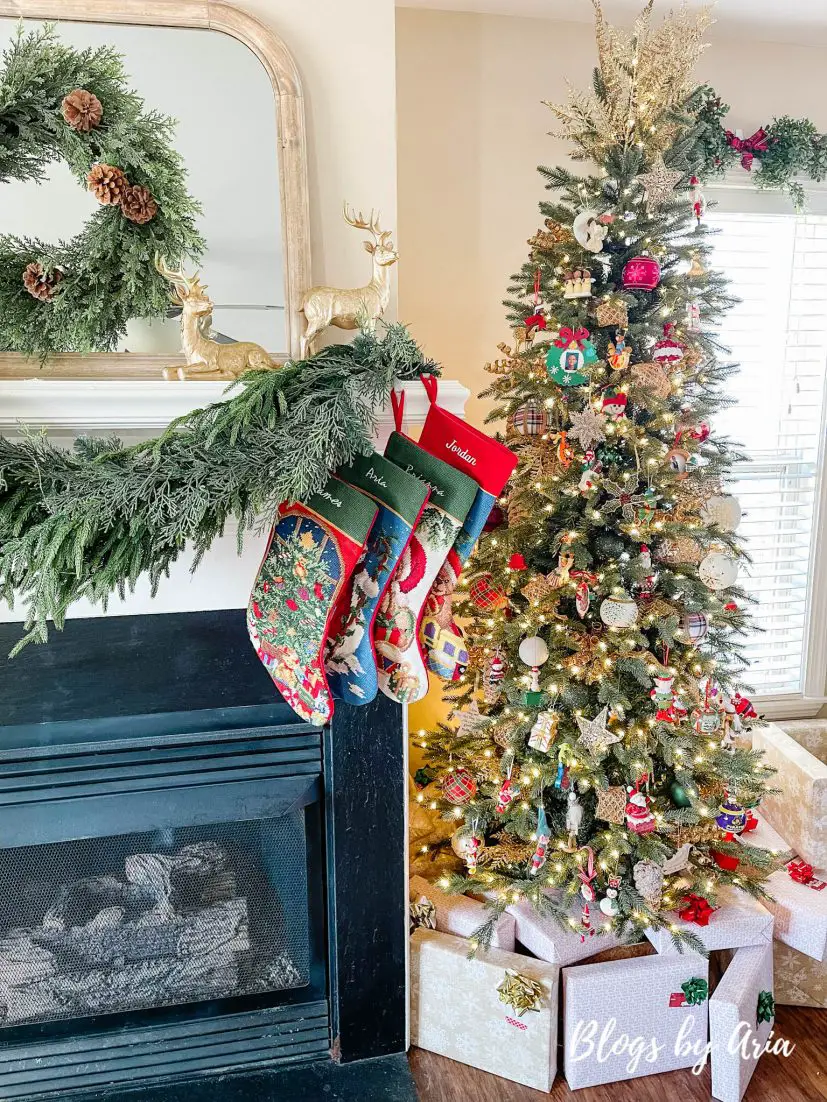 Let's start with my green and gold Christmas tree.  If you look at my Christmas trees over the years you'll notice that I love lots of red.  And I still do.  But because I wanted to focus on the green I really didn't want to add my traditional red elements.
PREVIOUS CHRISTMAS TREES
Originally when I was thinking of decorating my tree this year I wanted to use a dark green ribbon and gold ribbon and gold picks.  I tried to find the perfect gold berry picks but couldn't find what I was looking for.
Turns out the green ribbon didn't work against the green tree.  I'll show you how I used it in a moment.  What I did love was all of the gold accents!  I wish I had even more gold picks, but after visiting three Hobby Lobby stores I think I got all that was available within a 60 mile radius.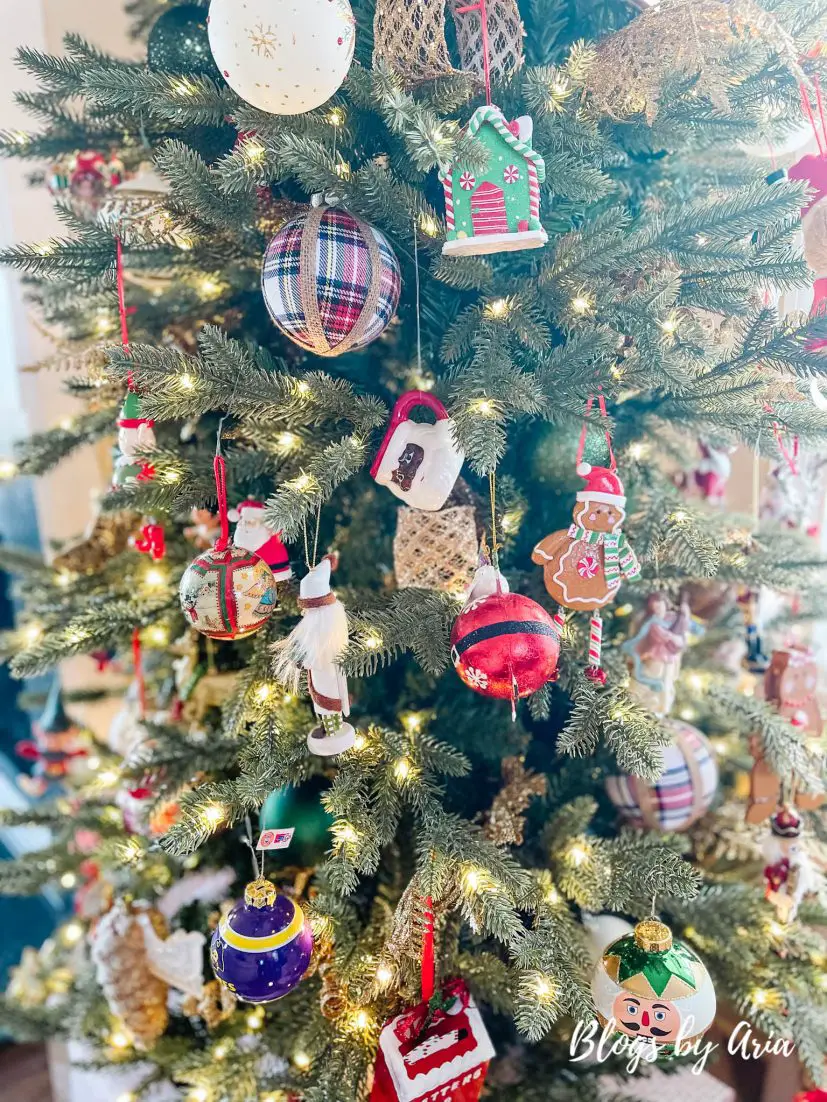 I spy with my little eye a Black Santa mug ornament.  I got it from Target and I have a matching Black Santa mug.  Now that I'm looking at it, I see that this picture would've been better had I posed with the actual mug.  But fun fact…I didn't pull out any of my Christmas mugs this year.  Because I never got around to decorating the kitchen.  Next year.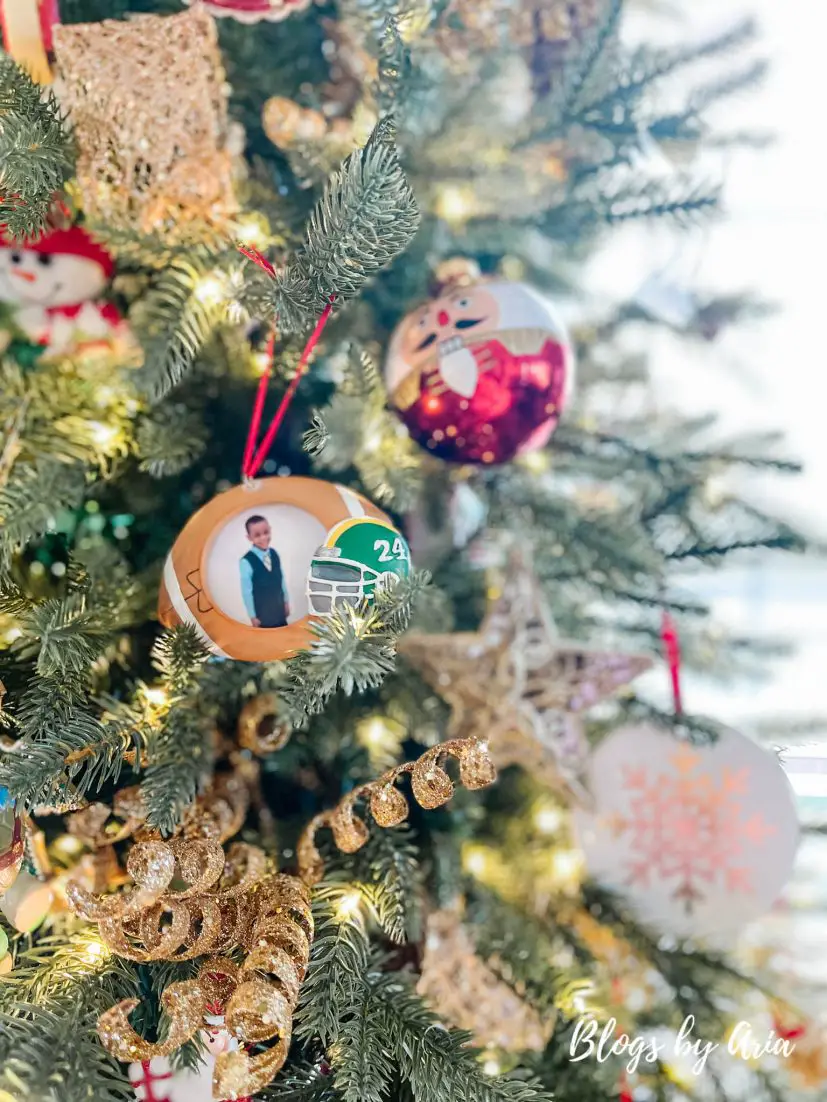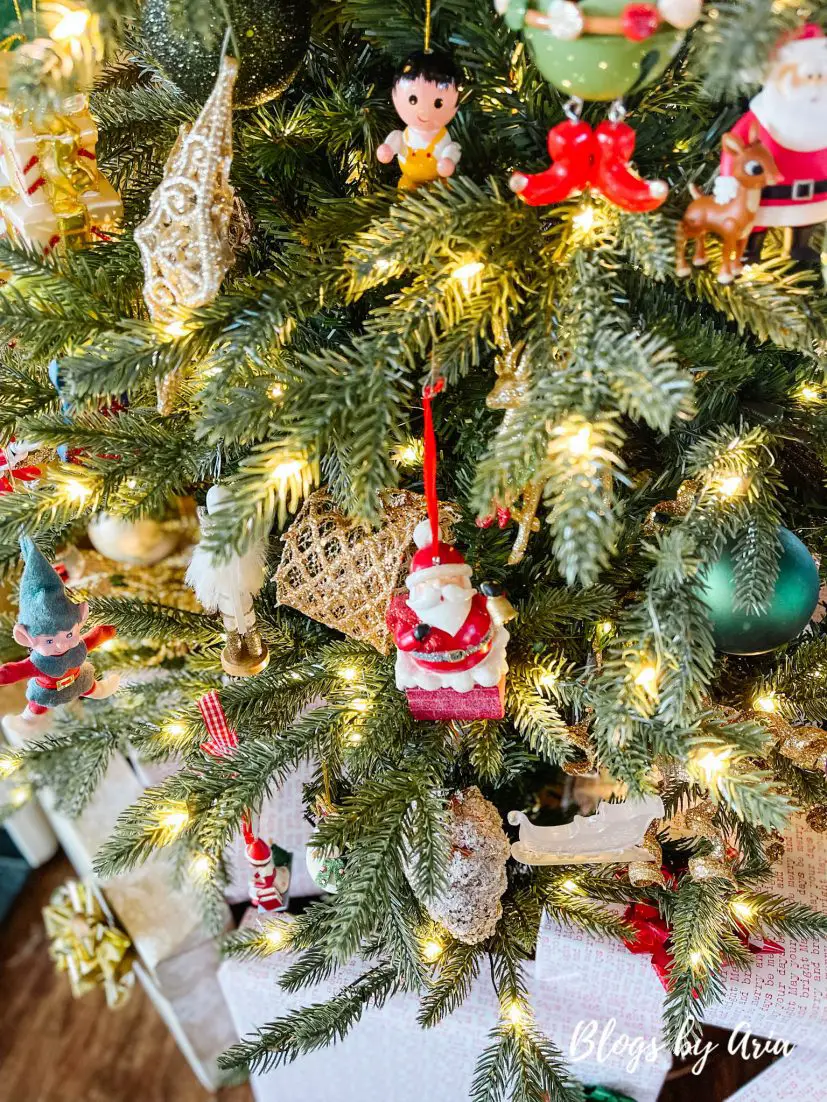 Last year my mom gave me a box of ornaments we had for decades that she no longer wanted.  I added them to my tree last year but it was fun adding them this year because I had forgotten all about them.  They bring back such fond memories of our Christmases spent in Germany where many of them came from.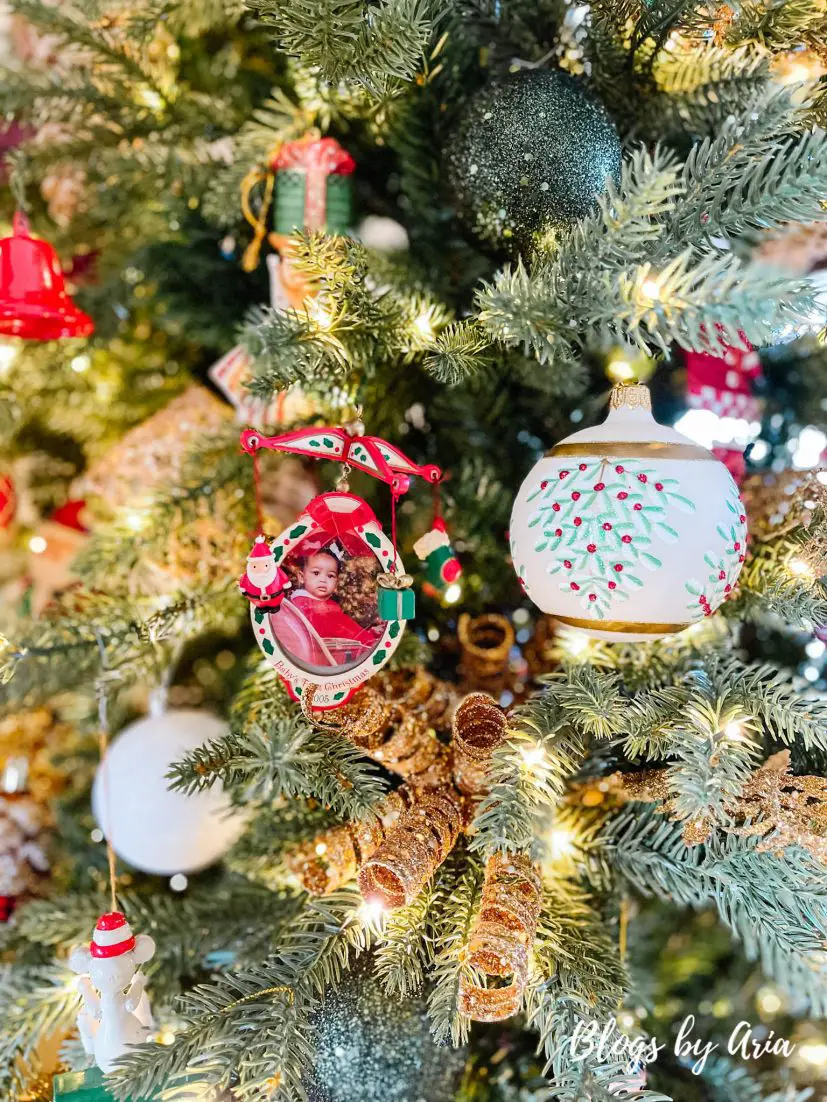 I'm not going to say I'll never decorate my Christmas tree as a theme.  But for me, one of the best parts of decorating for Christmas is pulling out all of the ornaments together as a family.  They hold such valuable memories.
When we have a bigger house sometimes I think about the possibility of having our nostalgic, traditional tree in our loft or bonus room.  And doing a theme in our living room.  I don't know…we'll see.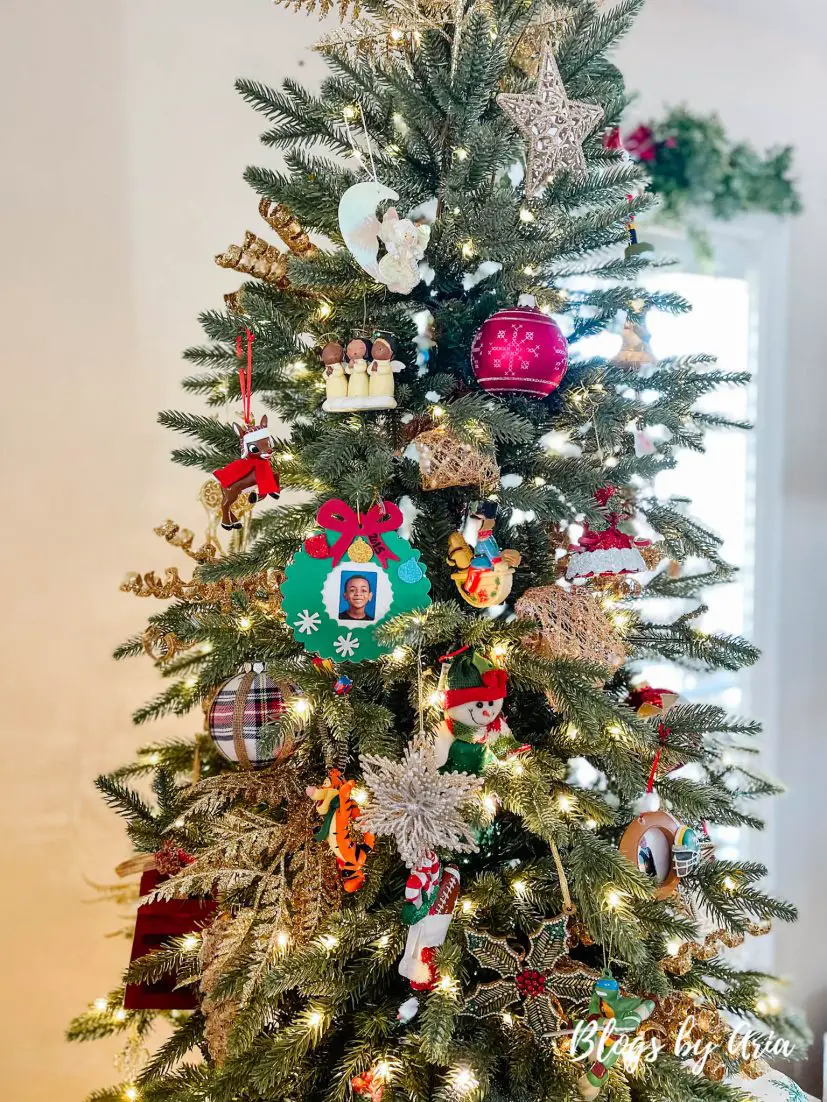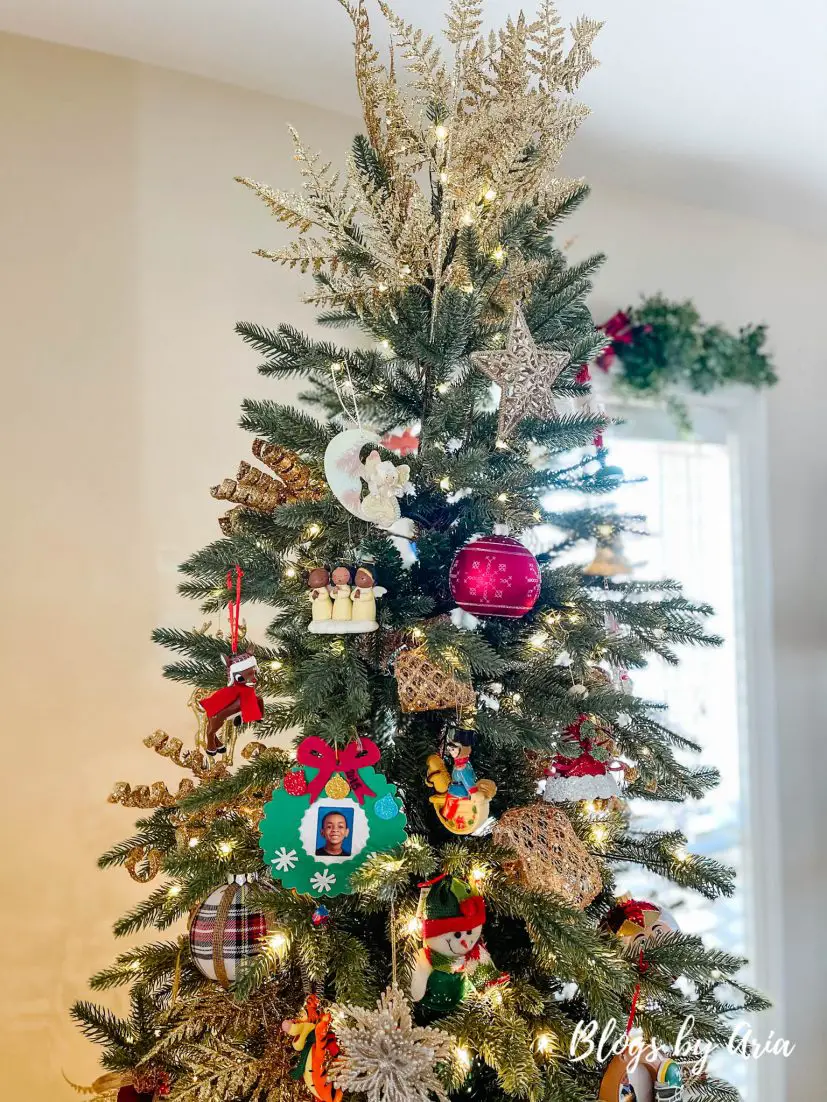 I couldn't find a star I liked so I used a few of these glittery gold stems as my topper.  Had I planned for that I would've tried to get even more to make it look fuller.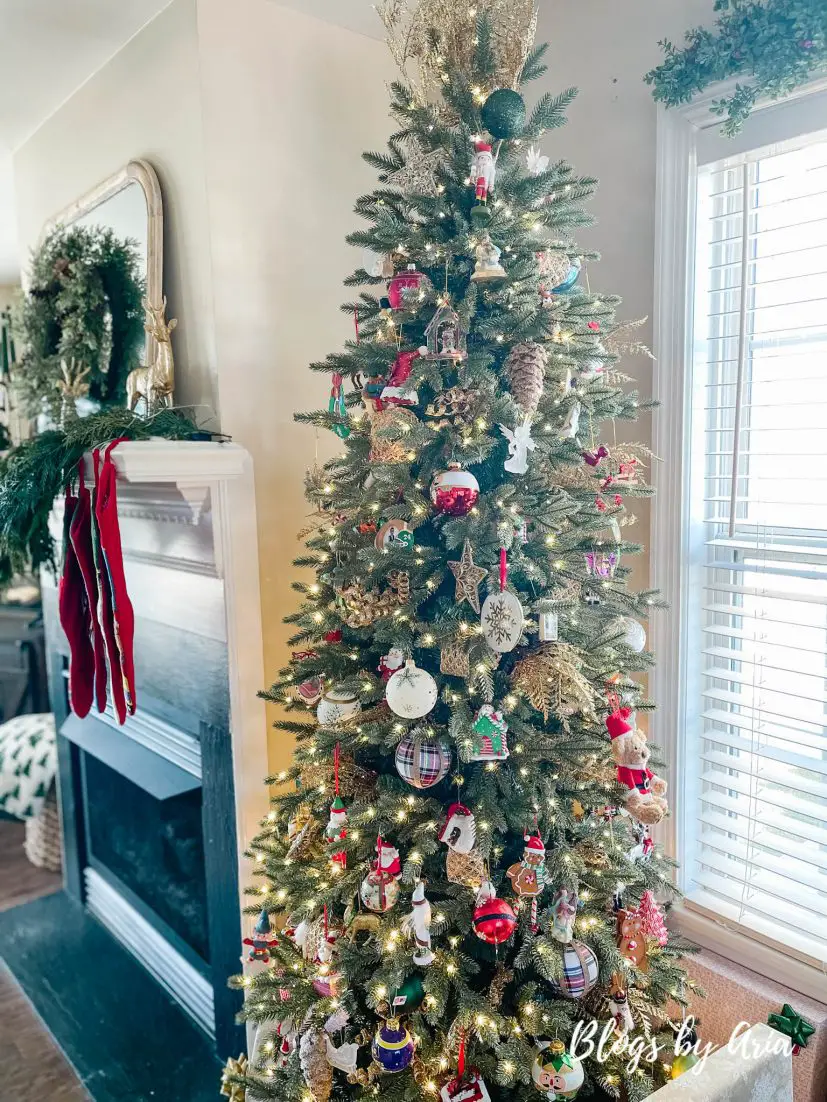 I truly love this Christmas tree.  It's new this year after our last tree was recalled, I got rid of it.  It was too large for this space.  This tree is from Home Depot and I love how slim it is.
When we do have a larger home I would love for this tree to be in our bedroom since it's nice and slim.  It's the Jackson Noble Slim and we have it in the 7.5 foot size.
The branches are very realistic which means they don't hold the same as a typical faux tree branch.  We had to loop the ornament hooks around the branch several times as well as hang the ornaments further into the branch.
GREEN AND GOLD CHRISTMAS MANTEL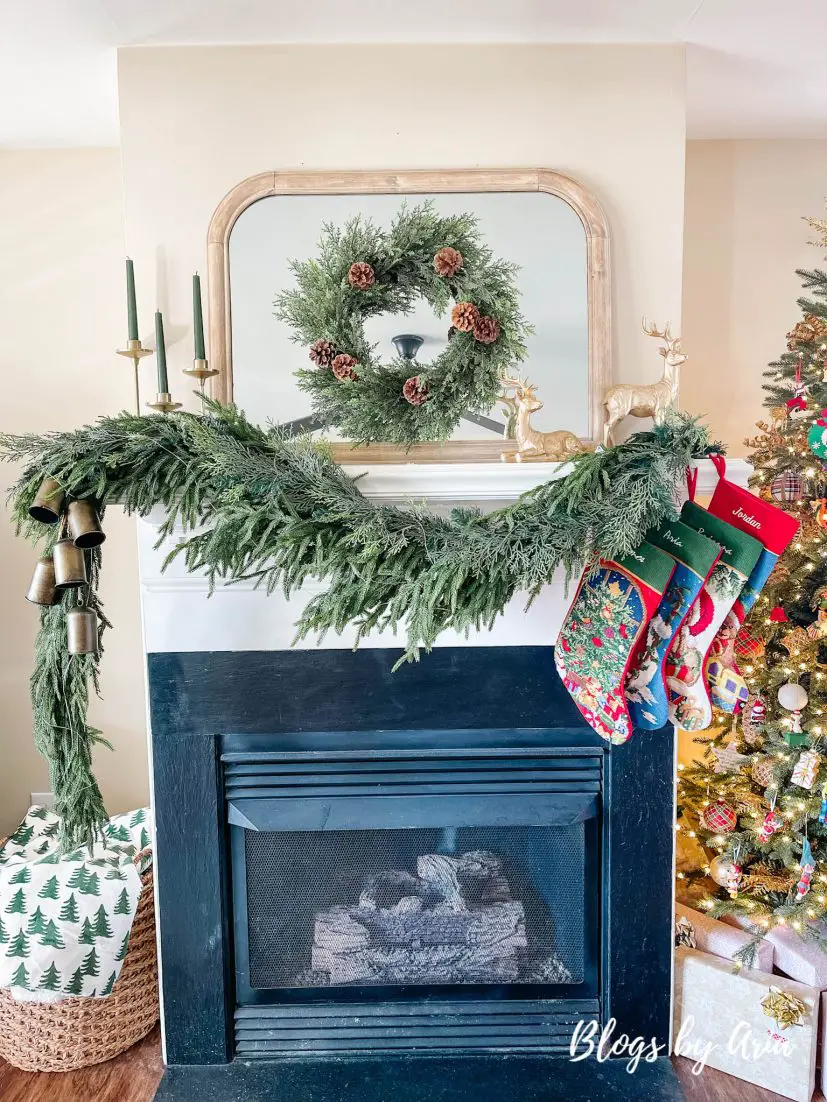 Two days before Christmas I finally hung our stockings.  I didn't feel like they went with the green and gold theme so that's part of the reason for the procrastination.
I used these Command cord hangers to hang them this year.  I wasn't sure how much weight they could hold so I took it easy on what went into the stockings.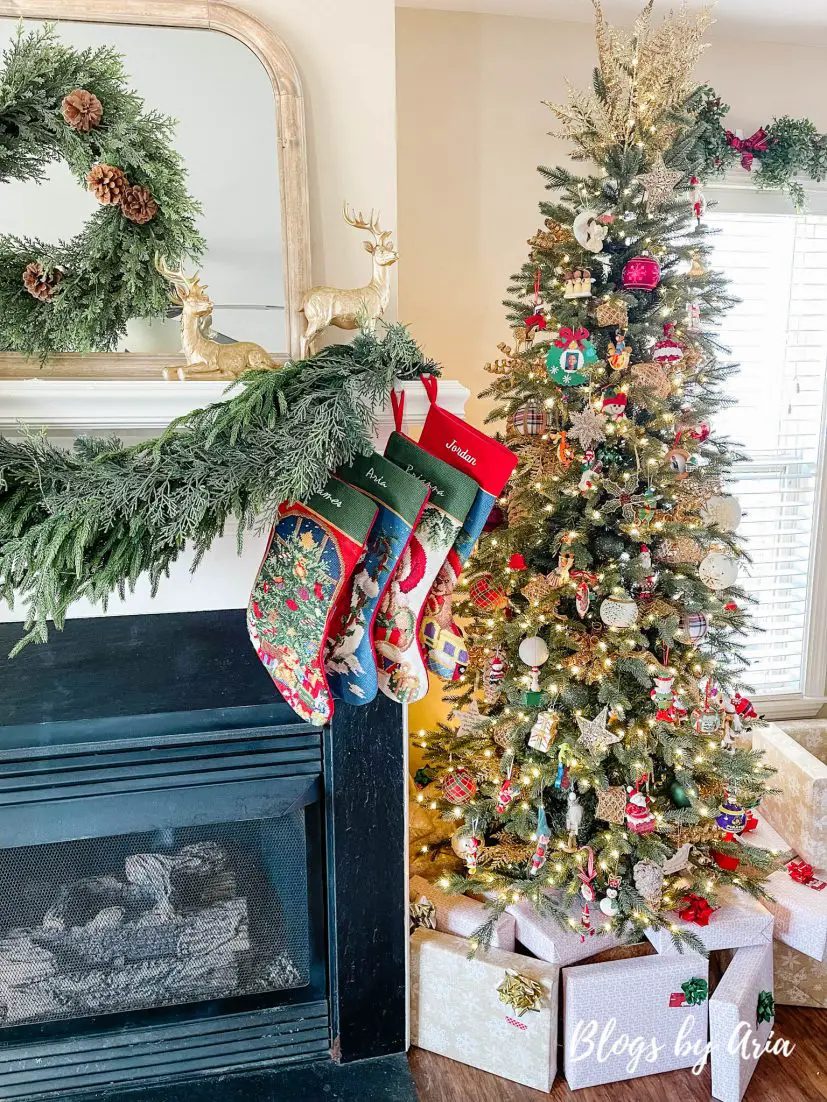 This picture was a couple of nights prior to the previous shots and I only had two of the stockings up.  It's when I decided I wanted to stagger the stockings and I love how it turned out.
MORE HOLIDAY SPACES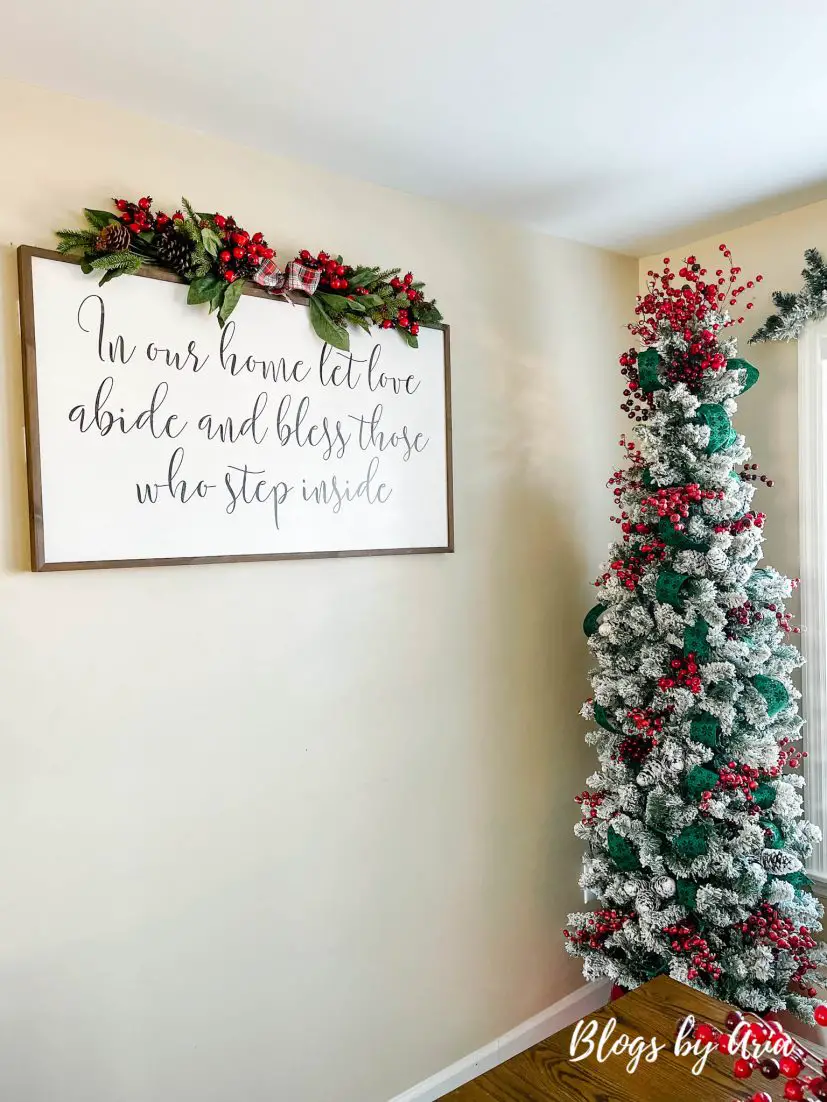 The green ribbon I was going to use on my living room tree worked perfectly on my flocked tree.  I decided to forgo the ornaments and just use a lot of berry picks and green ribbon.
If you want to see more of my decorating process on this flocked tree, check out my Christmas Decorate with me YouTube video.
My floating shelves got a few touches of gold too!  And a lot more red than my living room.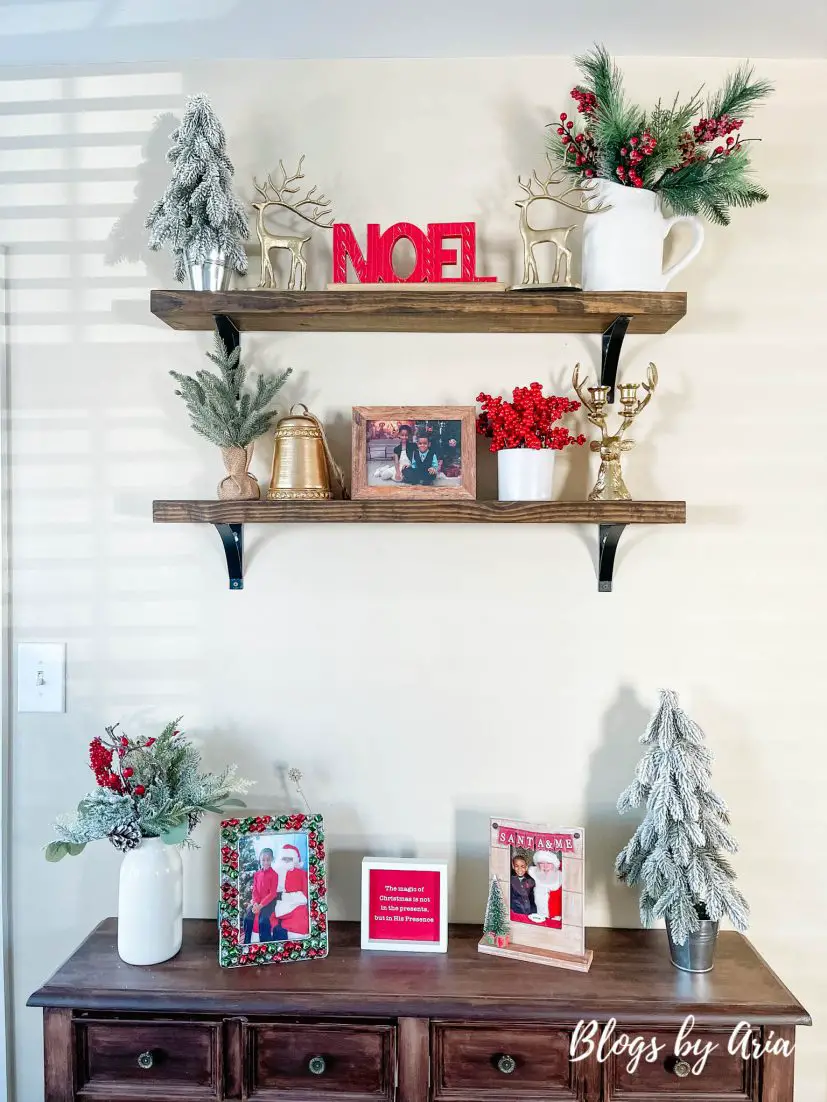 I added the flocked tree on the bottom to balance things out a bit.
Unintentionally my bookshelf tends to go more neutral.  I added my tall nutcrackers because I didn't bring out any of my nutcrackers this year and I missed them!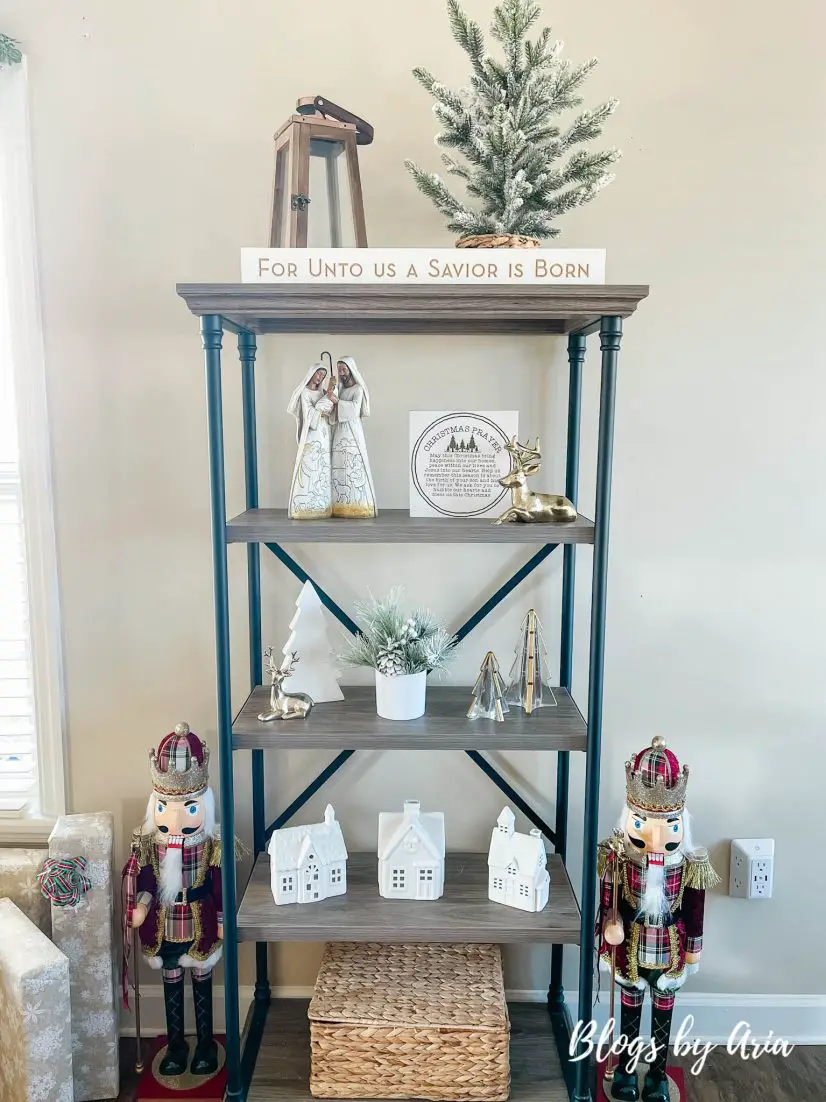 I didn't decorate in the kitchen much this year.  But I did add this pretty wreath and added some gold bells to the center.  They're both from the Target Wondershop so hopefully they'll bring them back next year.
CHRISTMAS ENTRYWAY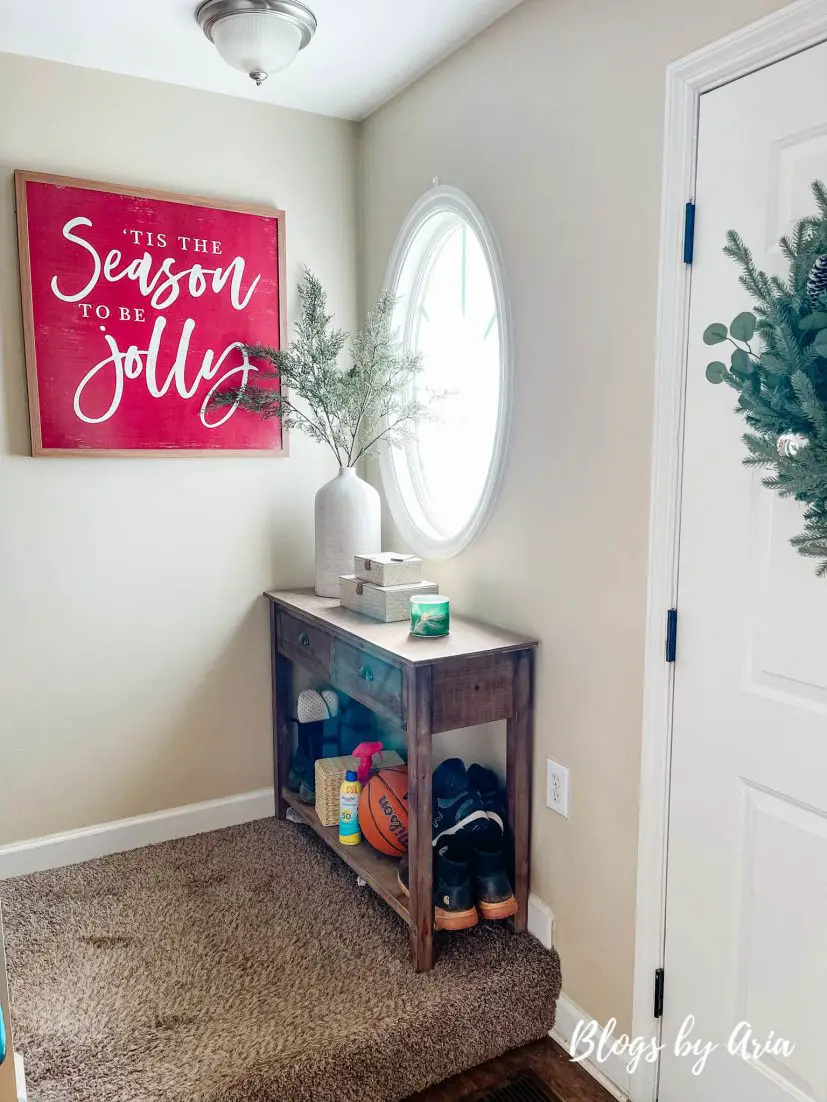 I almost got rid of my red Christmas sign but I liked having a pop of red in this area.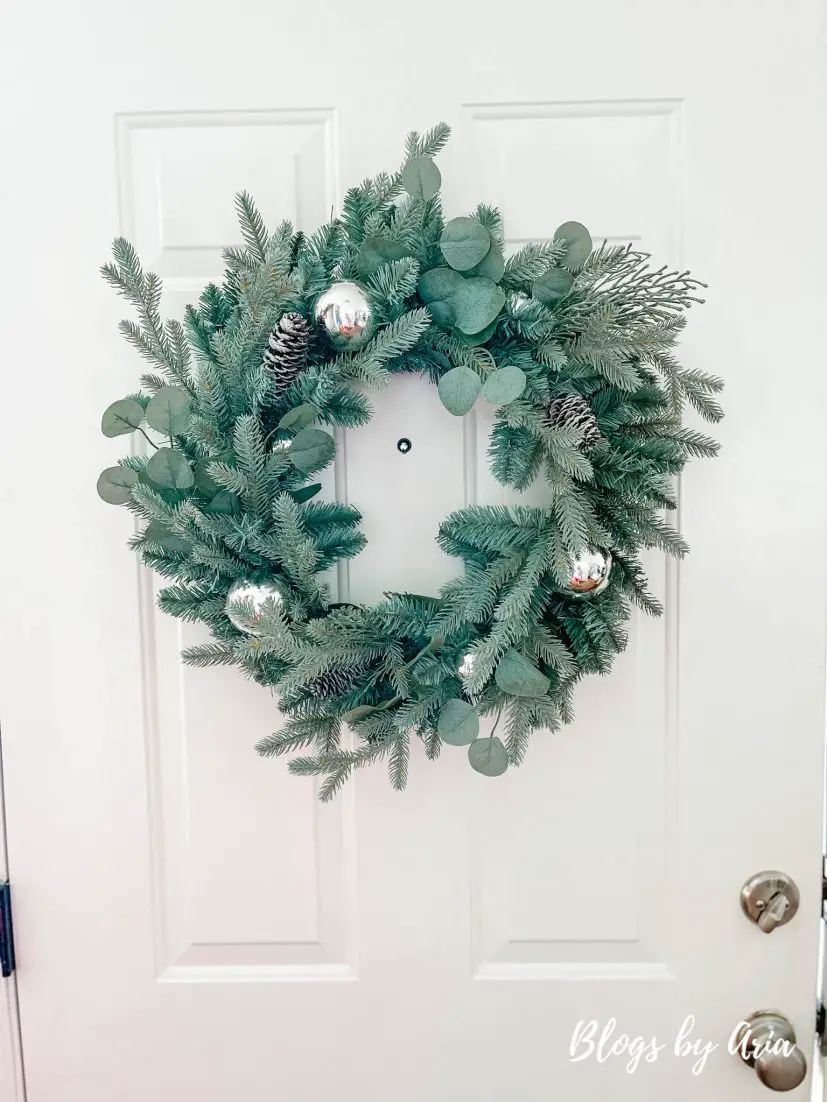 I want to wish you a Merry Christmas and remind you that what you're able to do is enough.  In a season of go go go and do all the things and be perfect and merry and joyful, what many of us experience is stress.  And a whole lot of it.
So this year I couldn't do all the things.  I couldn't share all the content because I didn't create it yet.  Eventually I just accepted that I couldn't do it all this year and that's ok.  Whenever you're reading this, I hope that you know it's ok if you can't do all the things.
If you'd like to get even more home decor, fashion finds, sales and more be sure to follow me here: