The holiday season is quickly approaching and I want to be a big resource for you this year.  I'm currently working on my own Christmas decor plan and hope to get that set within the next few weeks.  So I've been looking for all the Christmas inspiration and will be sharing with you as well.
In my search I recently stumbled upon House of Jade Home which is new to me but I'm obsessed with it all!  It's giving elevated holidays.  And tons of Christmas decor inspiration so I have to share it with you!
*this post includes affiliate links for your shopping convenience, you can read more about affiliate links by reading my Disclosure*
faux juniper wreath • pinecone tree • lighted gingerbread houses • enameled snowflake ornaments • wooden nutcrackers • lighted gingerbread house ornament • brass laurel garland • faux cedar branch • pre-lit 7.5 flocked tree • theo bells • woven seagrass tree collar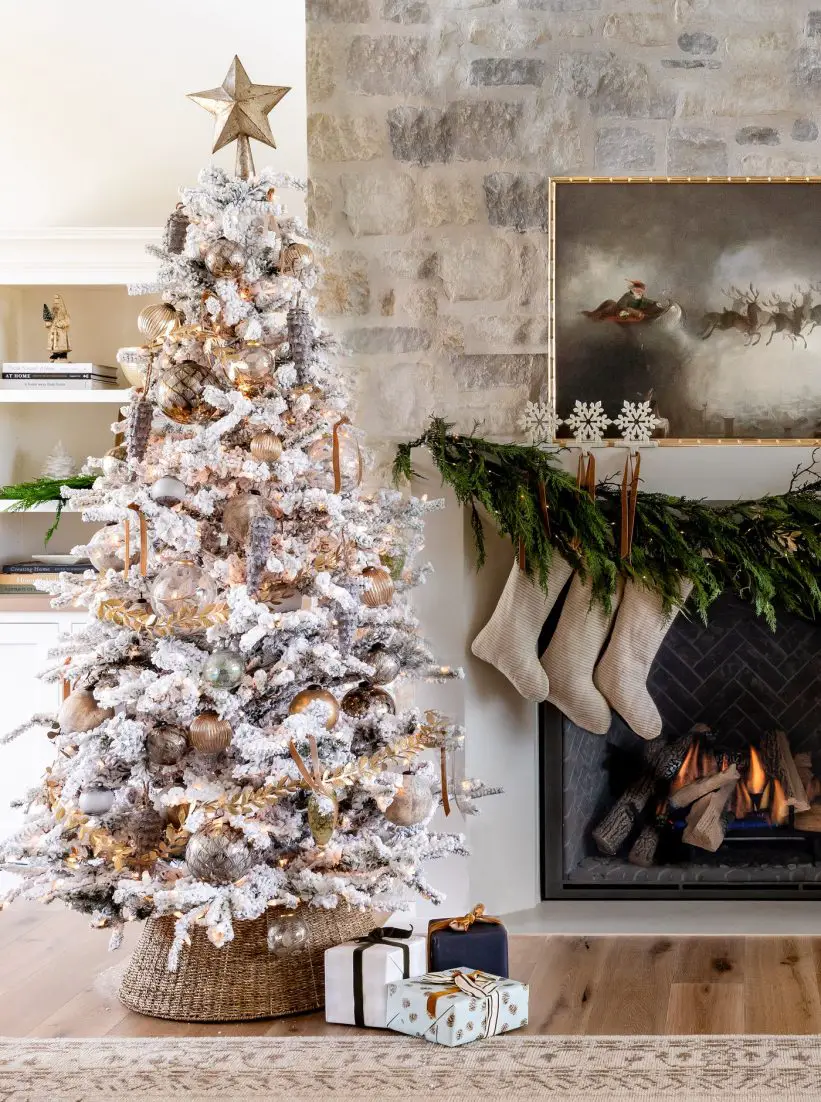 7.5 flocked tree • brass laurel garland • cedar twig garland • woven seagrass tree collar • snowflake stocking holder
I've noticed that a lot of the holiday decor trends are going more neutral.  I don't think I can quite commit to that but I still love to get inspired by decor styles that may not be my particular style.
Are you team flocked or team green or both?  You can do all of the above!
What stands out to me about this tree decor is the gold leaf garland that works on this flocked tree but I think would stand out even more on a green tree.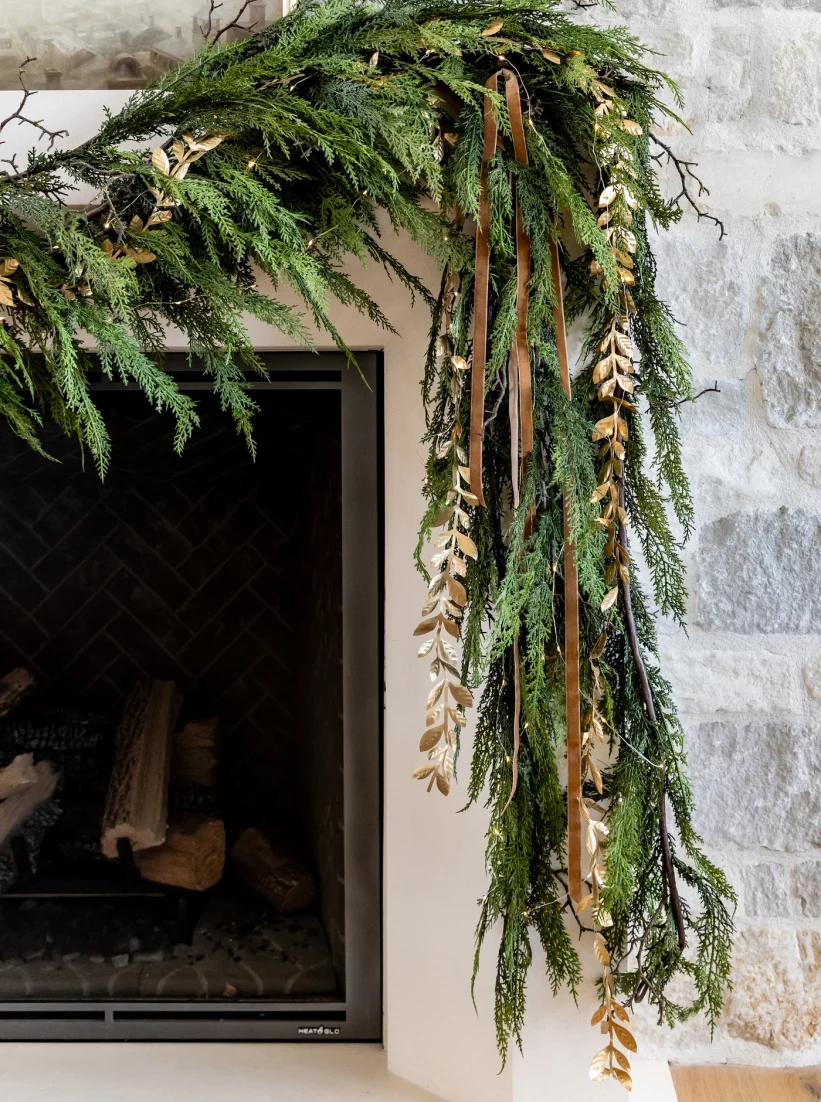 cedar twig garland • brass laurel garland • gold velvet ribbon 
Using multiple strands of garland and adding in a touch of gold velvet ribbon really elevates the look to give it a more elegant feel.
Last holiday season I was intentional about adding in more green and gold into my decorating.  I think I will build upon that this year as well.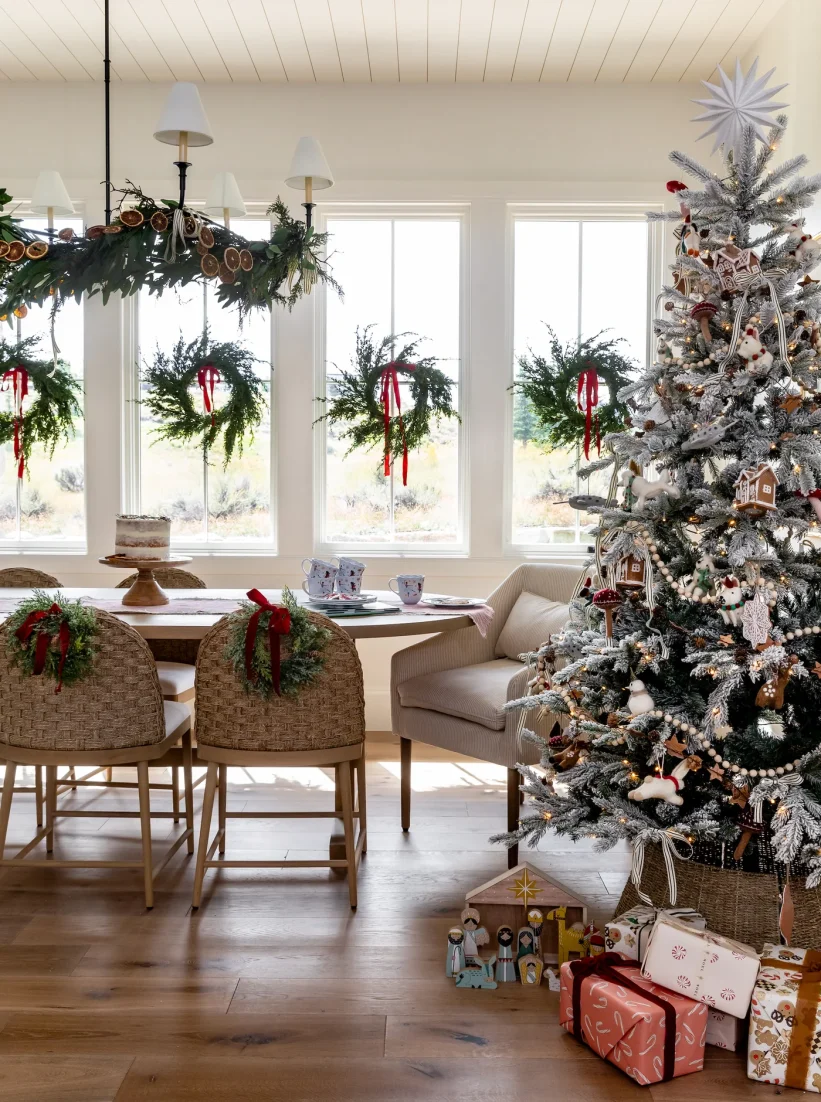 gingerbread house ornaments • faux juniper wreath • flocked mini wreath • wood bead garland
Our living room blinds are stationary but if they weren't I'd love to use this idea of adding wreathes with ribbon to the windows for the holidays.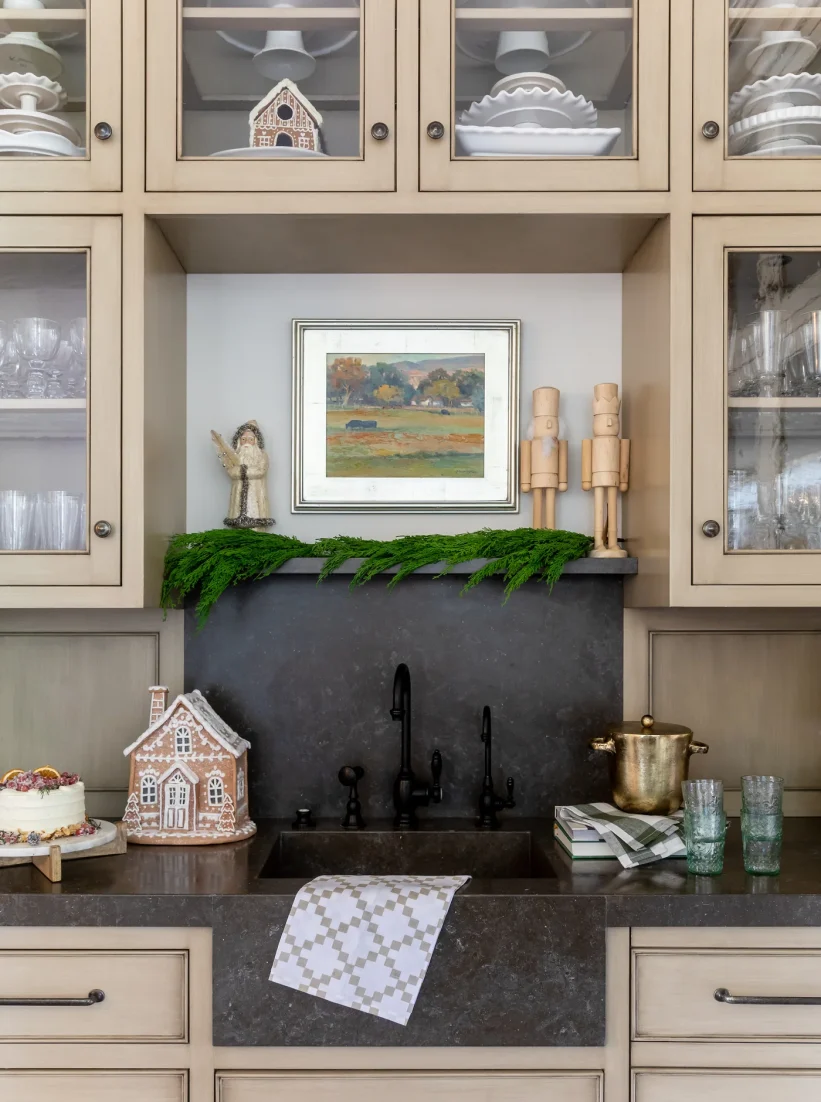 lighted gingerbread house • wooden nutcracker • faux cypress sprig
If you're new around here, you should know that I'm quite obsessed with gingerbread houses.  That's how I found this shop was from this gingerbread house!  It's gorgeous!
And I like the idea of using a couple of sprigs to add a touch of greenery to a shelf or bookcase where it wouldn't work to add a full garland.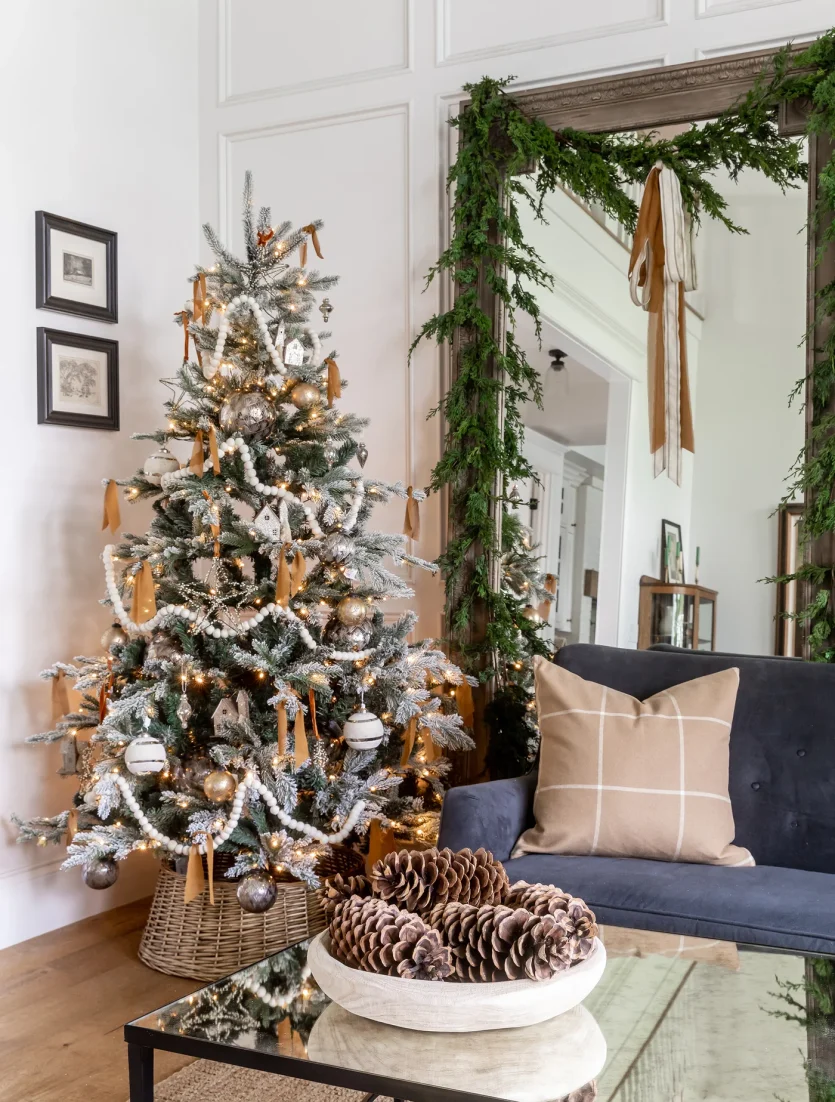 Another great idea is to add garland to a large mirror like this and add a ribbon bow.  You can go neutral or more colorful.  I might do this in my bedroom.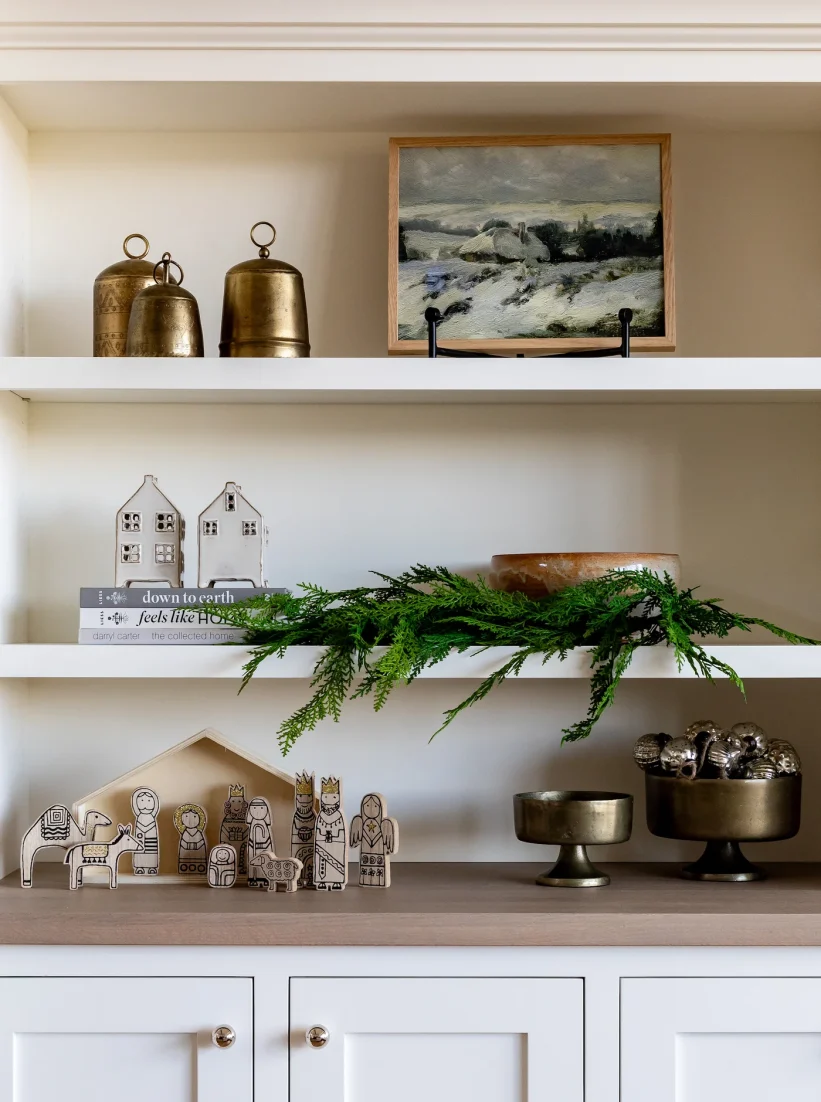 antique brass bells • snowbound art • tealight cottage • faux cypress sprig • wood nativity set • mercury garland • estella compote
Bells are always a good idea!  I like the idea of displaying them together like this on a shelf.  Stealing that idea!
Another great idea is to take an ornament garland and display it in a bowl.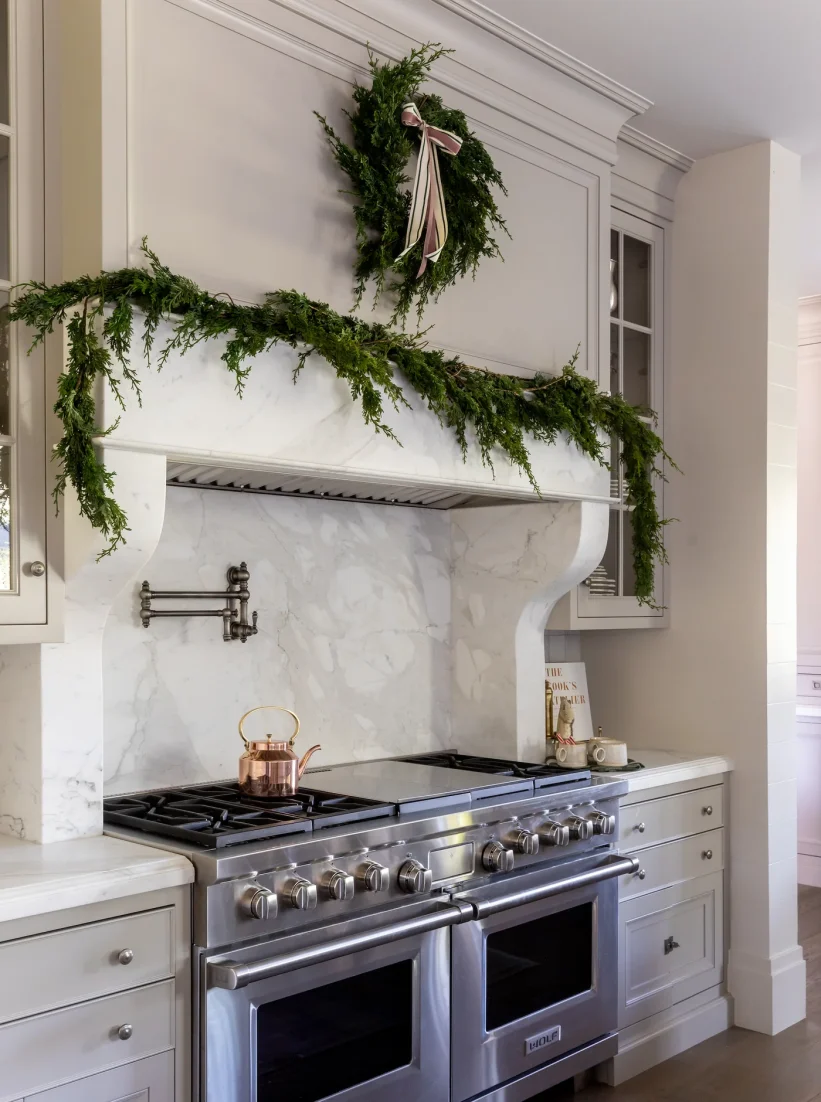 faux juniper wreath • faux juniper garland
If you have a similar range hood add some garland to it!  I love the look and would love to do that one day.  One thing I did with my Fall kitchen is I added a wreath over the microwave.  Our cabinets are large enough to accommodate a full size wreath and I can't wait to style it for the holidays!
I hope you got a lot of Christmas inspiration today!  Lots of elegant, elevated holiday decor ideas.  It's good to see different styles of holiday decorating and to see how you can incorporate them into your own home.
If you'd like even more Christmas decorating inspiration, here are some posts you may like: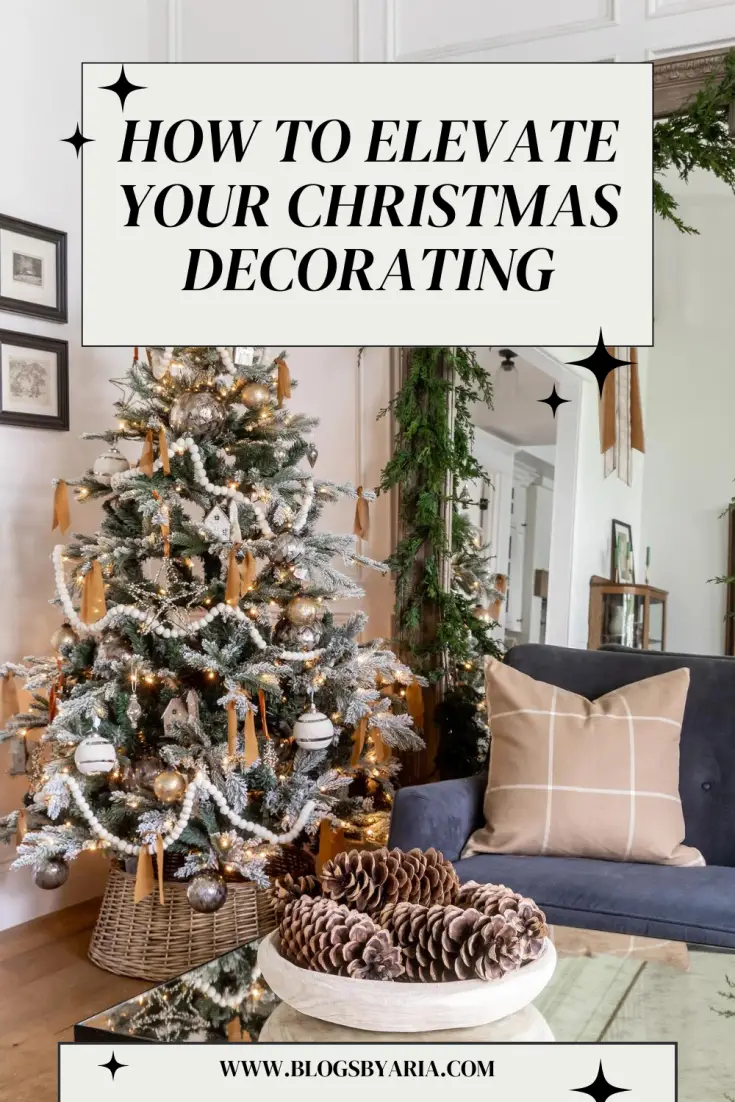 If you'd like to get even more home decor, fashion finds, sales and all things random be sure to follow me here: